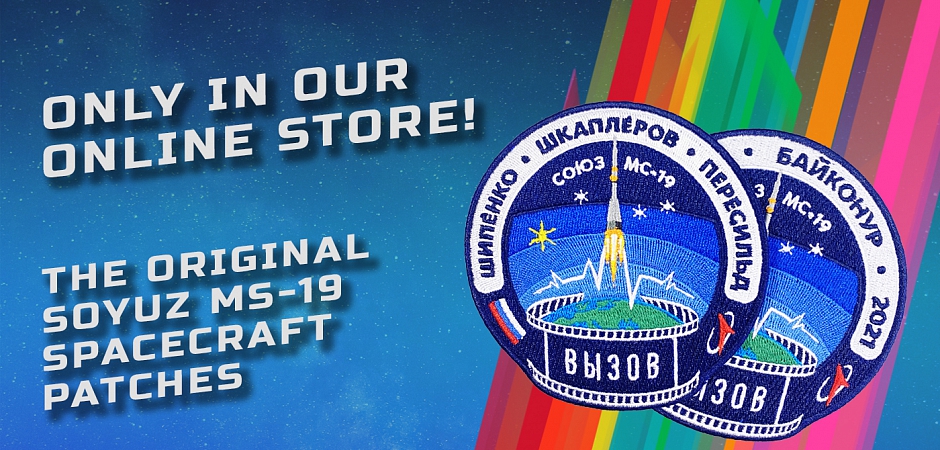 27.09.2021
Only and exclusively in our online store! Now in the Glavkosmos online shop the original patches for the Soyuz MS-19 spacecraft are available for purchase! The crew of the mission will be shooting the first in the history of humanity feature film in space!
Dear friends!

You may already know that on October 5, 2021 – very, very soon! – a unique Soyuz MS-19 spaceflight is scheduled for launch to the International Space Station with the commander of the spacecraft, cosmonaut of Roscosmos, Hero of Russia Anton Shkaplerov and non-professional participants of the space flight: actress Yulia Peresild and film director Klim Shipenko.

They will shoot a feature film with the working title "The Challenge" on board the ISS, the film will be telling about a physician who, due to some dramatic circumstances, will have to prepare for the flight in a month and go to the ISS to solve an important problem.

For Glavkosmos, assigned with promoting commercial human space flights on the international level, this project is important from the practical side. After all, this film will not just be the first film shot in orbit, it is part of a joint scientific and educational project of Channel One, the State Space Corporation Roscosmos and the Yellow, Black, White studio. The project will become a clear evidence that space flights are gradually becoming available not only for professionals, but also for an increasingly wide range of people who want to space. In the future we will use this type of accelerated training, that the participants of the film received, to send to orbit other specialists like physicians, scientists, etc., who are not professional cosmonauts or astronauts.